FAQS
I paid my house off but have not received my deed?
You would have received your deed when you first purchased the property (Either, from the title company or Attorney). You still receive your deed even if you have a mortgage on your property. If you had a divorce or had to change the deed since you originally bought it then that deed would be your newest one on record. If you do not have your deed, then you can get a copy in our office for $2 a page fee or on our website for free. (We do not keep originals of deeds in our office)
I want to transfer my property but do not want to go to an attorney. (Change a name on the deed)
We cannot give legal advice on a document. The best advice we can give is to seek legal advice from an Attorney.
How can I get a copy of a document if I cannot come into the office ?
You can get a copy from our website using the search index tab. If for some reason it is not available on our site, then you will have to send us a letter of request. The letter needs to state what you are requesting, a book and page or instrument number, a self-addressed stamped envelope, and money for the cost of the copy ($2 a page).
What about bulk request?
1. When you do a date range search, or a name search you can click on the "plus" symbol on the search results in front of each entry. (as shown below in Figure 1)
2. This will add it to "My list" which is located on the righthand side of the screen above the search results.
3. Once you have all your documents added to the list then you can click on the first document on the list.
You will see at the top a "Print my list" button (as shown below in Figure 2) This will print all documents on your list at once.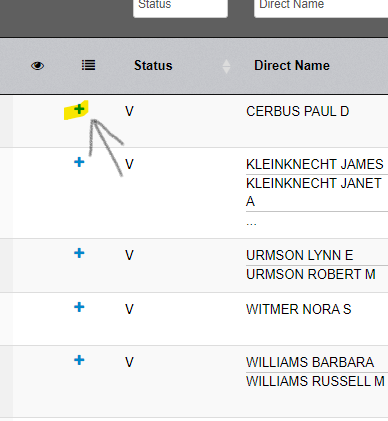 Figure 1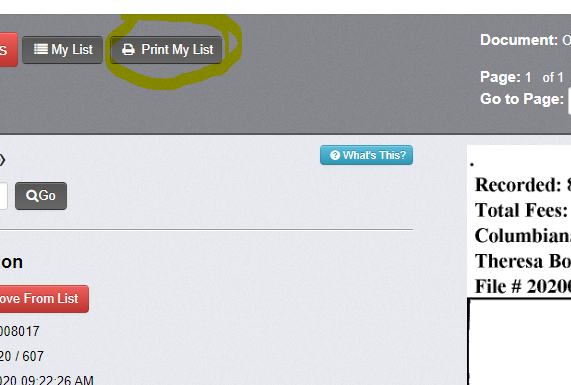 Figure 2
What steps are involved in recording a deed in your county?
You will need a copy of your current deed along with the one you intend to record. You will then need to go to the County Map office, County Auditor's office, and then the Recorder's office.
Do you have any forms in your office for me to fill out?
No, we do not have document forms in our office.
What are your hours?
Our hours are 8am-4pm Mon-Fri
We stop recording at 3:30 each day.
What forms of payment do you accept?
We accept cash or check only.
Do you fax or email documents?
No, we do not fax or email documents.
I need to do research in your office. Do you have accounts for copies?
We do not have copy accounts for printing copies of documents. We use a copy card system that can be reloaded and reused. However, once money is on the copy card, we cannot refund it.
Can I get a copy of my relative's discharge?
Military discharges have restricted public access. ORC 317.24 allows authorized parties to request copes of recorded military discharges. Proper identification MUST be presented to view and receive copies.
Authorized parties include:
The Veteran who is subject to the discharge
A County Service Officer
An individual with Power of Attorney for the Veteran
An Executor or Administrator of the Veterans Estate
A funeral home director
A recorded discharge document is not public record for a period of seventy-five (75) years after the date of recording.